Chief & Council (Kukpi7 & Tkwamipla7) Term 2018-2022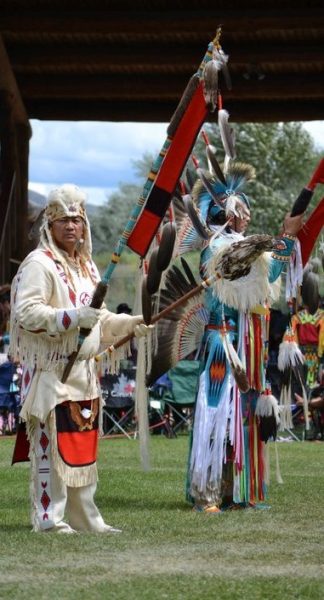 Kukpi7 Wayne M. Christian
(Chief)
Wayne M. Christian is of Secwepemc ancestry. His Indian name is Wenecwtsin it comes from his great grandfather. He is a proud father of seven children and twenty-seven grandchildren. Kukpi7 (Chief) Christian was re-elected for his 7th consecutive election with a term for 4 years as Chief of Splatsin January 10th, 2018. Kukpi7 Christian has worked for over 40 years in establishing healing and health systems for the Indigenous Nations of BC. Christian is currently one of the Tribal Chiefs of the Secwepemc Nation representing 9 of the 17 communities of the Secwepemc Nation with responsibilities' for Stsmamlth (Children) & Aboriginal Title and Rights.
Kukpi7 Christian in his first role as Chief lead two major initiatives in fighting for our rights; the Indian Child Caravan 1980 and the Constitution Express 1980 and 1981—fighting for recognition of our laws and jurisdictions for our lands resources and people.
He is committed to unravelling the legislative genocide that removed our governance from our territories; our families; to rebuild the Secwepemc Nation.
One of Christian's greatest strengths is a commitment that is firmly rooted in the values, principles and traditions of the Indigenous Nations. His leadership philosophy is based on inclusiveness, spirituality, traditional knowledge rooted in our oral history, a strong belief in our Sovereign land title and rights that are governed by our laws, our values, culture, traditions and our connection with all of creation, he believes strongly that the solutions to the issues in the communities are rooted in the minds, hearts and spirits of the People who will deal with the Government's legislative genocide.
He is known as a tireless and passionate advocate for recognition of Aboriginal Title and Rights at the political and grassroots levels for the Indigenous Nations and communities, he believes that the children are our future and the future is right now. Whatever it takes the time is now.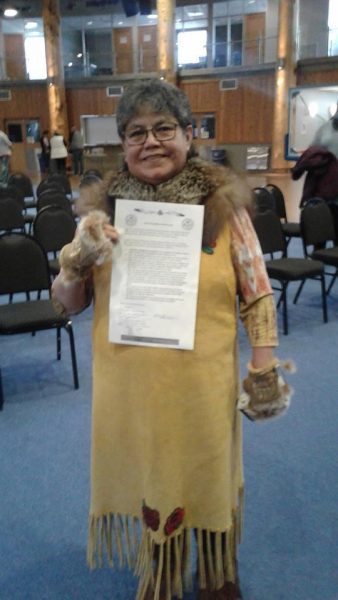 Tkwamipla7 Edna Felix
Waytk ra skwast Tkwamipla7 Edna Felix. This is my 2nd term as Splatsin Councillor. My portfolio includes Language/Culture and Human & Social Services. I was born and raised for nine years in Invermere, B.C. I then moved to Splatsin and have been here since the age of nine. I was married for over 30 years to Casimir Felix, until his passing in 2011. I have three beautiful daughters and one deceased son. I also have seven grandchildren.
Food sovereignty and sustainability, along with freshwater, are major concerns for Splatsin. Being open and transparent is a must because we as a council don't like to waste people's time. I'm a person who likes to see action and positive solutions. The main focus is to ensure that the best interest of Splatsin band members remains the focus. As one of the leaders, it is my responsibility to do due diligence for those yet unborn, and follow the footsteps our ancestors have guided us to follow. Together as a team, Chief and Council will be working to the best of their knowledge and ability to honour this trust Splatsin has entrusted unto us. Four years is a long commitment that we have all taken seriously and are working to make positive change, to keep moving forward. I'm very grateful for the support of Splatsin, for their support and trust in the leadership they voted into office to represent them.
Kukstsamc Tkwamipla7 Edna Felix
Tkwamipla7 Doug Thomas
Doug was born at the Enderby hospital in 1964. Although most years were spent living elsewhere, Enderby was always considered home. During his schooling (mainly in the U.S.), Doug was involved in many sports: baseball, football, karate, soccer, and wrestling. The year 1982 was one of celebration for graduating high school at A.L. Fortune. At the age of 20, Doug moved to the coast to complete a diploma program in business. He pursued a career in Information Technology and landed a job at a Fortune 500 company (Tech Data Canada). After 28.5 years involved in multiple IT projects and a total of 31 years in the industry, he was elected as Councillor.
A very community-minded person, Doug considers himself very fortunate to be chosen to represent the Splatsin people. He is very excited about the possibilities and willing to share from his vast experience in the business world.
Tkwampila7 Shawn Tronson
During this term, Shawn's work portfolio will include overseeing Splatsin Development Corporation as one of the board members, as well as the Education portfolio. He also sits on the Monashee Community Forest Board, daycare board (as an Ex-Officio member), is part of a working group with the City of Enderby and the City of Sicamous, serves on the Finance committee, and works on many other tasks.
Shawn has been married to his wife Ashley Tronson for three years; they have been together for seven years. He has three daughters Hailey (Randon), grandchildren Ashlyn and Holly, Kelsey (Alex) and Brooklynn. His father, Vern Tronson, is Okanagan Indian Band (OKIB) and his mother, Patricia Muskrat, is Splatsin.
Shawn worked for Wildfire Management with the Government of BC for 20+ years. His experience with the government has taught him many things that will help benefit him as a Councillor. He looks forward to learning all that this job entails. Shawn believes in his election promise of being transparent, trustworthy, honest and accountable to his community.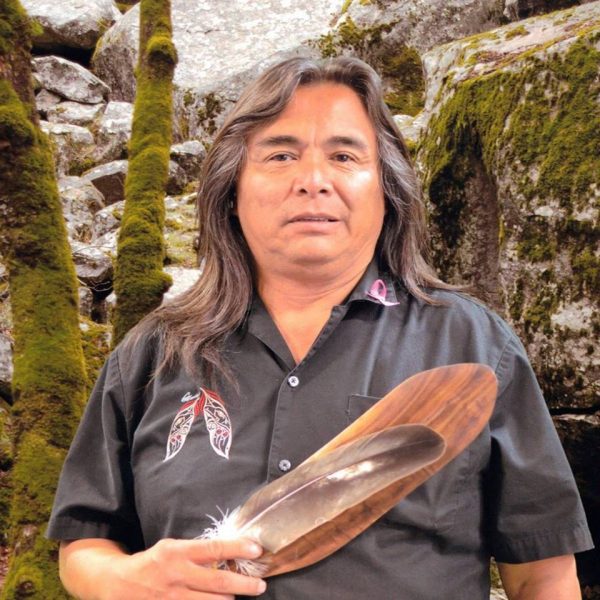 Tkwamipla7 George William
Councillor George William has been on Council on and off over the past 20 years. George was born in Armstrong, BC on May 21, 1956. He married Bev in 1975. They have three children: Mike, Tina and Randy, as well as eleven grandchildren.
It is my expectation that we will deliver real results and ensure that we have a strong focus on results. We need to align our resources with priorities, to get the results we want and Splatsin members deserve. We have also committed to set the bar higher for openness and transparency in government. It is time to shine more light on Chief & Council to ensure it remains focused on the members it serves. If we want members to trust their government, we need a government that trusts its government. It is important that we acknowledge mistakes when we make them. Splatsin members do not expect us to be perfect. They expect us to be honest, open and sincere in our efforts to serve all the members' interest.
I am deeply grateful to have this opportunity to serve as one of your Council members as we build an even greater community in the next four years. Together, we as Chief & Council will be working tirelessly to honour the trust Splatsin members have given us.
Sincerely,
George William Councillor for Splatsin Contact number (250)306-0104 Email: [email protected]
Boards chaired or attended by George William:
Splatsin Stsmamlt Services (Child Welfare Program), All Nations Trust Township of Spallumcheen, Monashee Community Forest License, Elders Council, representative RCMP Community Consultative Group, Jules Wilson Litigation, First Nation Finance Authority, Community Comprehensive Planning and the Sexqeltkemc te Secwepemc Lakes Division.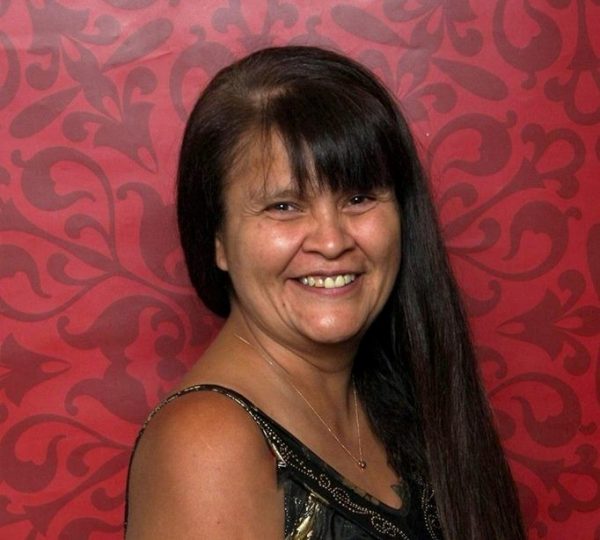 Tkwamipla7 Theresa William
Tkwamipla7 (Councillor) Theresa William has lived in Clcahl/Salmon River for most of her life. She is a mother of four children, whom she raised in her family home in Clcahl. She also has one grandchild. Theresa started her career off at Splatsin working in the Splatsin's Title and Rights Department where she garnered a solid understanding about First Nations Title and Rights issues. She then transferred over to Splatsin's Administration department and was appointed to the Executive Secretary position for Chief and Council in 2005.
During her long tenure as the Executive Secretary, she was exposed to and had opportunities to learn a lot about the management of the Splatsin Administration and overall Band operations, Splatsin Businesses and all of the various departments within Splatsin, including funding regimes. Theresa had the opportunity to learn about the financial management of the band and roles and responsibilities of the Chief and Council during her time as Executive Secretary. She remained in the position of Executive Secretary until her successful run for Splatsin Council in January 2018, where she was elected to represent Splatsin. She received the honour of being appointed Sub Chief due to her receiving the most votes for council during the January 2018 election.
Theresa feels extremely honoured by receiving the Splatsin community's support during the election and that the membership has shown that they believe in her ability to do the job successfully in her term on council. Theresa has a well-rounded understanding of band operations and this has allowed her to transition into her new role as Councillor and Sub Chief seamlessly. She has a great vision for areas of improvement and hopes to help to make the Splatsin community more successful and cohesive during her term. Her areas of responsibilities for the duration of her term include Finance, Administration, Title & Rights and Governance. She is looking forward to learning and moving our community forward.
Council Board Appointments
Shuswap Nation Tribal Council, Union of BC Indian Chiefs, First Nation Education Steering Committee, University of BC, Okanagan College, BC Assembly of First Nations, Enderby Chamber of Commerce, City of Enderby Joint Council, City of Enderby Working Group, District of Sicamous, All Nations Trust, First Nations Finance Authority,Township of Spallumcheen, Falkland,North Okanagan & Columbia Shuswap Regional Districts, Sexqeltkemc Enterprises Inc, Community Futures, Restorative Justice, Secwepemc Reconciliation Framework Committees, Sexqeltkemc to Secwepemc Lakes Division, Monashee Community Forest, Assembly of First Nations, Tsm7akasaltn Daycare, Splatsin Development Corporation, First Nation's Health Council, Secwepemc Health Caucus
Chief & Council Documents