To ensure the health and wellness of the community, many Splatsin health services will be offered by phone, text or email. Below are the services that continue to be available to band members.
---

Essential Services: Healthcare

COVID-19 testing and testing referrals
Referrals and follow-up for those who need treatment and link to necessary services
Provide pre-established home health services, treatments and procedures for those assessed in priority based on health condition and function
Provide urgent public health and communicable disease control measures as required
Immunizations against vaccine-preventable diseases
Provide health surveillance and infection control protocols
Communication with regional, provincial and national health authorities
Communicate details of risk to all community members, with enhanced communication to elders and vulnerable community members
Contact
Health professionals are reachable Monday to Friday from 8:30 am to 4:30 pm. Call reception at (250) 838-9538.
---
Testing for COVID-19 in our Communtiy

What: Testing for COVID-19 has been expanded to our community for anyone with flu-like or respiratory symptoms for longer than 24 hours.
Why: To stop the spread of COVID-19 within our community
Where: The Enderby Health Centre at 707 3rd Ave has opened a drive-thru testing site. Nurses from the Splatsin Health Centre are providing doorstep testing for special circumstances only.
When: The Enderby Health Centre is testing Splatsin Band Members between 1:00 and 2:00 pm on weekdays by appointment only.
How: At the first sign of flu-like or respiratory symptoms, call the Splatsin Health Centre at (250) 838-9538 between 8:30 am and 4:30 pm on weekdays. A nurse will assess you and help you navigate timely and appropriate testing services. On evenings and weekends, call HealthLink BC at 8-1-1.
---
Virtual Doctor of the Day
A collaboration between the First Nations Health Authority (FNHA) and the Rural Coordination Centre of BC (RCCbc), this program gives first nations citizens access to virtual medical appointments with FNHA-approved Doctors. To book an appointment, call (855) 344-3800, seven days a week between 8:30 am and 4:30 pm.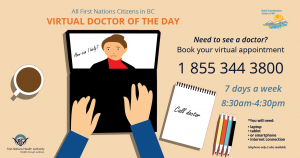 ---
Medical Patient Transport (MPT) Program
All medical transportation for routine appointments is currently unavailable. Routine appointments include, but are not limited to, regular dentist appointments, eye exams, non-urgent specialist appointments, or diagnostic tests. Read here.
---
Mental Wellness

Learn about mental wellness support available to band members here.