Learn about the novel coronavirus (COVID-19), what you can do to help prevent the spread of the virus within the community and what the symptoms are. There are currently no treatments or cure for the virus.
COVID-19 Contact Information
If it's a weekday between 8:30 am and 4:30 pm...
Splatsin Health Services: your first point of contact for questions about COVID-19 and other health-related inquiries
If it's a weekday between 7:30 am and 8:30 am or between 4:30 pm and 8:00 pm or a weekend...
1-888-COVID-19: non-medical general information and access to support and resources
If it's any day of the week or time...
If you're already sick and it's a weekday before 8:30 a.m. or after 4:30 pm or a weekend...
---
Prevention
Stay home if possible to prevent getting sick or spreading sickness
Wash your hands with soap and water or use hand sanitizer often
Avoid touching your face
Cough and sneeze into your elbow
Dispose of tissues right away
Flush the toilet with the lid down
Practice social distancing: do not use contact greetings such as handshakes, hugs and kisses
Frequently sanitize surfaces that are touched at home
Regularly clean and disinfect surfaces in your home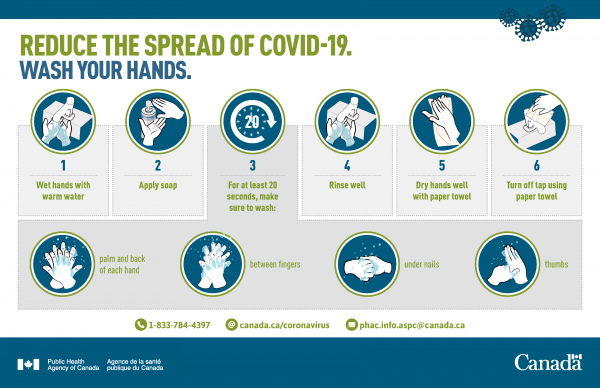 ---
Symptoms
cough
fever
difficulty breathing
pneumonia in both lungs
Canada's COVID-19 Self-Assessment Tool
---
Testing
Testing is available at some of our community partner sites. It is only offered to those with specific symptoms and exposure risk. SHS does not currently offer testing.
Testing is available for...
hospitalized individuals due to severe illness (or likely to be hospitalized);
health care workers;
residents of long term care facilities and/or;
contacts of a 'case cluster'.
Testing is not available for...
people who have no symptoms;
people with mild symptoms or;
returning travellers.
---
Reliable Resources